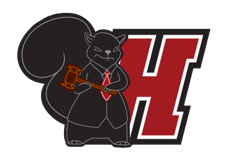 What is mock trial?
Mock trial is a competitive activity that combines speech and debate with acting. Every year the team receives a fictitious case from the American Mock Trial Association (AMTA) and works together to build original arguments for both the prosecution/plaintiff and defense side. At trial, our attorneys and witnesses compete against other teams before a panel of judges. The judges (all current judges, attorneys or law students) score the teams based on the strengths of their arguments, presentation, and general performance.
Who are we?
Haverford Mock Trial is a dedicated group of exceptionally talented students. We are focused on both building our program and advancing our national standing. In addition to practicing together, we have team dinners, organize social events, and travel to competitions across the country.
Who should apply?
Students interested in public speaking, performing, debating, acting, arguing, reading, competing, and/or becoming part of a tight-knit family will find mock trial to be both intellectually stimulating and a fun experience.
Who do we compete against?
There are over 700 collegiate teams in AMTA to compete against, ranging from small liberal arts colleges to large public and private universities.
What is the time commitment like?
Each week there are at least 3 practices. Our attorney and witness coaches host a practice every week to help prepare witnesses and attorneys. There is also a group team practice, which helps to aid understanding of the case in chief and aid community. And there is at least one individual team meeting a week. Every team will also be attending 3 invitationals in the fall. Specific time is varied at the discretion of each team but usually consists of 10+hours of preparation.
What is an invitational?
An invitational is a tournament hosted by a college or university, where different schools from across the country compete in 2 trials a day over the weekend. These invitationals help to prepare teams for the regional competition that occurs in February.